Fantasy and Reality in the Poetry of Nurit Zarchi and Lisa Katz
Wednesday, February 16, 2005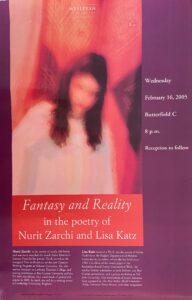 Nurit Zarchi is the author of nearly 100 books and was twice awarded the Israeli Prime Minister's Literary Prize for her poetry. Zarchi served as the inaugural Poet-in-Residence of the new Creative Writing Program at Hebrew University. She also teaches literature at Levinsky Teahers College, and writing workshops at Ben Gurion University and the Tel Aviv city library.
Lisa Katz received a Ph.D. (on the poetry of Sylvia Plath) from the English Department of Hebrew University in Jerusalem, where she has lived since 1983. Co-editor of the Israeli pages of the Rotterdam-based Poetry International Web, she teaches literary translation at both Hebrew and Ben Gurion universities, and a poetry workshop at Tel Aviv University.
Turn Left at the End of the World: A Film by Avi Nesher
Monday, February 28, 2005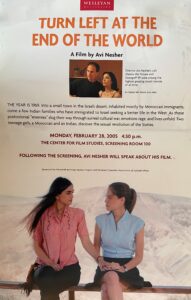 The year is 1969. Into a small town in the Israeli desert, inhabited mostly by Moroccan immigrants, come a few Indian families who have immigrated to Israel seeking a better life in the West. As these postcolonial "enemies" slug their way through surreal cultural war, emotions rage, and lives unfold. Two teenage girls, a Moroccan and an Indian, discover the sexual revolution of the Sixties.